Paediatric Liver Transplantation
It has been nine years since the inception of Paediatric Liver Transplantation Program at Chennai by Prof. Rela and his team and over these years what it garnered is beaming smiles on tender faces and trust of numerous parents. With increasing need for intensive care beds, Prof. Rela and his team moved to a larger facility, brand new facility. Dr. Rela Hospital which hosts one of the largest Liver intensive care in the world.
With more than sixty Paediatric transplants per year it is the largest Paediatric Liver Transplant Centre in South – Asia. So far more than 300 children had undergone liver transplantation in our centre. But 300 is not just a number, it is the quantum of hope that has been instilled in these children and their loving families, the hope of better life and a brighter future.
The Liver Transplant program at Dr. Rela Hospital is spearheaded by Prof Mohamed Rela, World Renowned Transplant Surgeon, who performed a successful Liver Transplant on a 5 day old child, which earned him a place in the Guinness Book of World Records in 2000. With over 25 years of experience and 3000 Liver Transplantations he is considered a true pioneer and an authority in this challenging field of surgery. Top Master's in Healthcare Administration recognized him as one of the 20 most innovative Paediatric Surgeons Alive. He is an academic power house and has published over 500 original articles and reviews in the subject of liver transplantation & HPB in international peer-reviewed journals & 19 book chapters including a chapter in the prestigious "Grays Anatomy". He is first clinician of Indian origin who is the Chairman of the Paediatric Committee in the International Liver Transplantation Society (ILTS) and also a council member of the Living Donor Liver Transplantation Study Group.
Dr. Rela Hospital, an International medical facility, is a quaternary care hospital dedicated to fostering and responding to the needs of a diverse patient population. The hospital provides highest quality healthcare in India, as well as access to cutting-edge technology and has experienced, caring medical professionals. The hospital is committed to being an internationally significant health care system with state-of-the art infrastructure facilities.
Rela Hospital is designed to provide highly specialised care in all specialities with special focus on care of the critically ill and multi-organ transplantation patients. Established under the formidable leadership of Prof. Mohamed Rela, a World-renowned Surgeon in the field of Liver Surgery and Transplantation, this hospital houses one of the World's Largest Dedicated Liver Intensive Care Units. In addition to the quality of the quaternary care in all specialities, the hospital is committed to provide day-to-day primary and secondary care to the local population on par with international standards may be even a notch higher.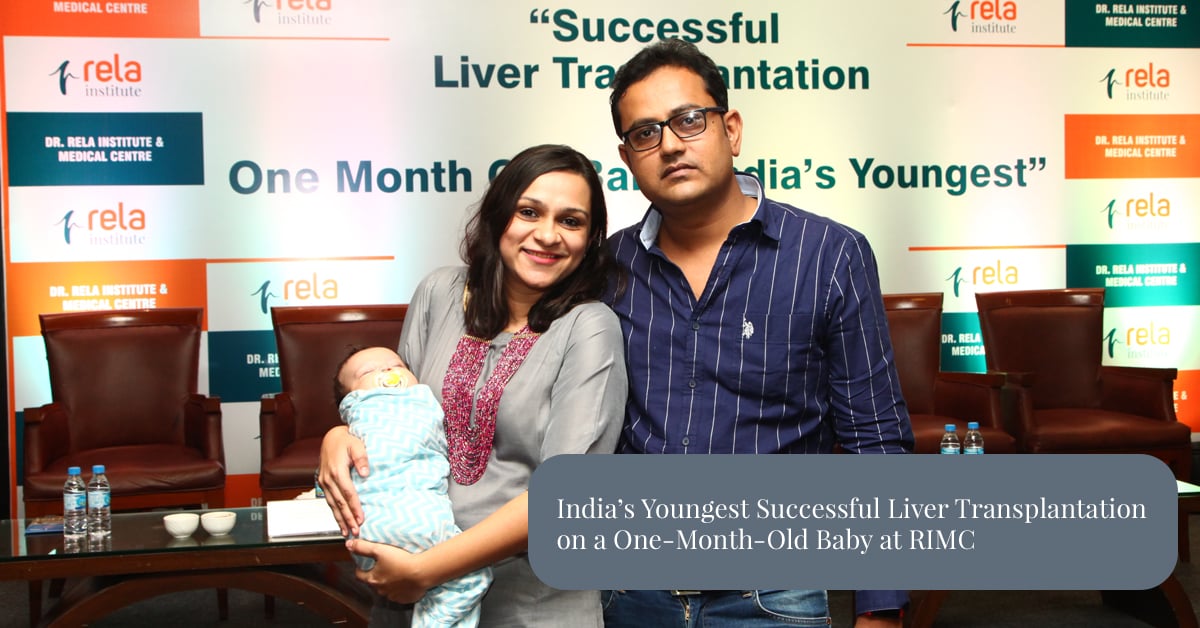 Rela Hospital, one of the finest liver hospitals in Chennai, has the best pediatric liver transplantation program in India for treatment of children with advanced liver diseases and other metabolic diseases / conditions that require an immediate liver transplantation. Rela Hospital offers the most advanced treatments in a multidisciplinary approach.
Headed by none other than Prof. Mohamed Rela, who has been voted among the 20 Most Innovative Paediatric Surgeons Alive Today; the Liver Transplantation Centre at Rela Hospital in Chennai is the most sought after Pediatric Liver Transplant Centre in India, and in fact in the world.
We care for every child's health, because we believe that every child deserves a better quality and healthy life. Every child matters!
Call us today, we are here to help you!
Who needs a Paediatric Liver Transplantation
Acute liver failure
Chronic liver diseases (Biliary Atresia, PFIC, etc.)
Metabolic liver diseases (Propionic acidemia, Wilson's disease, MSUD etc.)
Liver tumours (Hepatoblastoma, HCC)
Process
The Liver Transplantation Process at Rela Hospital
The patient and the family would be seen and counselled by multidisciplinary team consist of Pediatric hepatologist, transplant surgeon, anesthetist and transplant coordinator.
Recipient evaluation consist of blood test, CT scan of liver, echo cardiograms and specialist consult (if needed) Donor should be between 18 and 50 years of age with BMI<30 and no co- morbid illness like diabetes , hypertension etc. Donor would undergo blood test, CT & MRI scan of liver and would be seen by specialists like cardiologist, pulmonologist etc. to make sure the do not have any co-morbid illness. Once evaluation is completed the donor and recipient would be discussed in multidisciplinary transplant meeting and then clearance is given. Some cases might require special clearance from Government. Once the whole process is complete the patient could be posted for liver transplant.
Types of Paediatric Liver Transplantation
Live related donor
Cadaver Transplant ( Split liver transplant)
Combined liver-kidney transplant
Auxiliary liver transplant
Monosegmental Liver Transplant ( for Babies less than 5 KG)