7 month old child flown from Kuwait for Liver Transplant
SEVEN-MONTH-OLD CHILD FLOWN FROM KUWAIT TO INDIA UNDERGOES CRITICAL LIVER TRANSPLANT AT Rela Hospital
~ A Flight Operated under Government of India's Vande Bharat Mission Helped in Saving the Life of an Infant ~
A team of doctors from Rela Hospital, Chennai – one of the largest pediatric liver transplant unit in south Asia performed a successful live donor liver transplantation surgery and saved the life of a critically ill seven-month-old infant. Baby Mahira Ahmed from Kuwait was suffering from a rare genetic disorder called biliary atresia since her birth and doctors in Kuwait suggested for urgent liver transplant for child survival. The baby along with her mother and grandmother traveled to India for a transplant at Rela Hospital in a flight operated under the government of India's Vande Bharat Mission to bring back its citizens stranded in various nations amidst the coronavirus pandemic. Indian community along with friends in Kuwait made a special appeal to the Indian Government and facilitated the Child's travel and supported financially with the help from Indian Diaspora in Kuwait.
The Child and her family a native of Uttar Pradesh landed in New Delhi in End-May 2020 from Kuwait as there was no direct flight to Chennai from Kuwait. As per COVID 19 protocol, the child and family were quarantined in Delhi for 15 days. The child's health condition was deteriorating during her quarantine period in Delhi, the family had to take the baby into a Delhi hospital for immediate treatment. The hospital, after analyzing the child's history said that baby cannot withstand the surgery and her survival chance was remote. The Family and friends in again made an appeal to the Indian Government for her travel to Chennai for a Liver transplant and finally, the child reached Rela Hospital Chennai in an extremely critical condition.
Doctors at Rela Hospital spearheaded by Professor Mohamed Rela performed a successful liver transplant with the help of a segment of liver donated by the child's mother. The surgery took just over 10 hours and involved 12 – 15 members from liver transplant team, anaesthesia and intensive care.
Dr Naresh Shanmugam, Pediatric Liver Specialist, Dr Rela Hospital Said, The Child came in critical condition to our hospital and she was very weak. Child weighed 4.5 Kg during admission & immediately provided nutritional support to make her firm for the transplant and she was 5.4 Kg before the transplant. The child was very weak to breath by herself and required ventilator to support her breathing & with improved nutrition, she gradually gained strength and could breathe herself.
Professor Mohamed Rela, Chairman, Dr Rela Hospital Said "Rela Hospital has the largest pediatric transplant program in South Asia and we have prior expertise in handling various complicated pediatric cases. Transplant during a pandemic is quite challenging, especially in pediatric cases as they have tiny blood vessels which need to be connected to the new liver. We follow stringent infection control policies and protocols at our hospital to ensure that both the patients and donors are safe"
"We had quite a many anxious moments due to the travel restrictions, quarantine and the fast-deteriorating health condition of my daughter. We felt relieved after meeting the Dr. Rela sir. We are very thankful to the All-Indian Women Association, Kuwait, Govt of India for the special permission for our travel and special thanks to the surgeons, the medical team, and the staff of Rela Hospital for giving new lease of life to my baby" Said Mrs. Shireen Qureshi, Mother of Baby Mahira Ahmed
Dr Ilankumaran, CEO, Rela Hospital, Said, "Airlifting patients especially pediatric patients for super specialty surgeries is not something new to us. Each year, we airlift in excess of 15 babies from across the globe for a transplant at Rela Hospital. This case was particularly challenging as there was travel restriction due to the pandemic situation and the patient's arrival to our facility was further delayed due to quarantine protocols. Thanks to the commendable support from Government of India along with our clinical excellence, we were able to bring back smiles and cheer to Mahira and her family.
---
The Hindu
Daily Thanthi
Dina Mani
News Today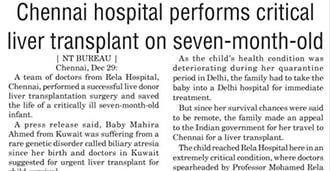 ---