Preterm and underweight baby with post covid complications and abdominal failure, airlifted to Chennai
~ 3 months old baby weighing 1.5 kg was airlifted 1600 kms in 3.5 hrs for intestinal rehabilitation at Rela Hospital, Chennai ~
Chennai, August 9th, 2021: A three-month-old baby from Ranchi, born as preterm at 32 weeks tested Covid positive at birth. Baby Asha's(name changed) mother tested positive for COVID 19 during pregnancy and died immediately after giving birth to twin babies. Baby Asha also tested positive for Covid19, developed lung infection and abdominal infection. Baby Asha underwent abdominal surgery within a month of birth in a private hospital in Ranchi, where most of her small intestine was removed. Post abdominal surgery, she was not tolerating milk and was shifted to a private hospital in Kolkata where she was totally dependent on intravenous nutrition. The Baby was referred to Rela Hospital for paediatric intestinal rehabilitation.
Baby Asha was airlifted with ventilator support in a critical condition on recently from Kolkata to Rela Hospital, Chennai. The entire episode of airlifting happened seamlessly with the due care and support of the Rela Paediatric Intensive Care Unit and the Kolkata Hospital. Baby Asha came to Chennai in an air ambulance and was transported from the airport to Rela Hospital with the support of incubators in road ambulance. Post the initial assessment of length and functionality of the remaining intestine at Rela Hospital, the baby is now stable and undergoing for intestinal rehabilitation.
"Baby Asha was severely underweight, obviously due to lack of feed and multiple complications. Getting an intravenous line on a newborn was also very difficult. She weighed 1.5kgs when we airlifted her. Her airlifting was well managed by the Rela Paediatric Team onboard in the air ambulance." Said Mr. Rohitashya, father of baby Asha. We are deeply grateful to doctors and frontline workers at Rela Hospital for airlifting her and providing initial treatment . Now I feel that my baby is in safe hands and very soon she will have a normal life like other babies " added Mr.Rohitashya
"Babies can loose small intestine due to a condition called necrotising enterocolitis (severe infection of intestine) and children can loose small intestine due to volvulus ( twisting of intestine). The affected part must be removed surgically and If large portion of the small intestine is removed, these children cannot absorb nutrition and would be totally dependent on intravenous nutrition said Dr. Naresh Shanmugam, Paediatric gastro and liver specialist, Rela Hospital. In this particular case, the baby Asha was managed conservatively using various techniques and medications by our Paediatric intestinal rehabilitation unit. Now, the reminding of the small Intestine of baby Asha slowly adopts to absorb nutrition and the baby Asha is now stable and weaned off the ventilator too, breathing in room air condition, added Dr Naresh.
About Rela Hospital:
Rela Hospital, an International Medical facility, is a quaternary care hospital dedicated to fostering and responding to the needs of a diverse patient population. The hospital provides high-quality healthcare with state-of-the-art infrastructure facilities and experienced, caring medical professionals.
Rela Hospital is designed to provide multi-specialty care with a special focus on multi-organ transplantation and critically ill patients. In addition to quaternary care in all specialties, the hospital is committed to providing day-to-day "primary and secondary care" to patients. Rela Hospital is a multi-super specialty hospital in a sprawling landscape of 36 acres located in Chrompet, Chennai, Tamil Nadu, India.
The facility, with 450 beds inclusive of 130 critical-care beds, 14 operating rooms, and sophisticated reference laboratories and radiology services, is conveniently located close to the road, rail, and air transport.
Rela Hospital is led and managed by world-renowned doctors who are committed to healthcare.
Rela Hospital offers a wide spectrum of clinical care, education, and research.
Rela Hospital is driven by patient needs, comfort, and trust.
---
Daily Thanthi
Tamil Sudar
The Hindu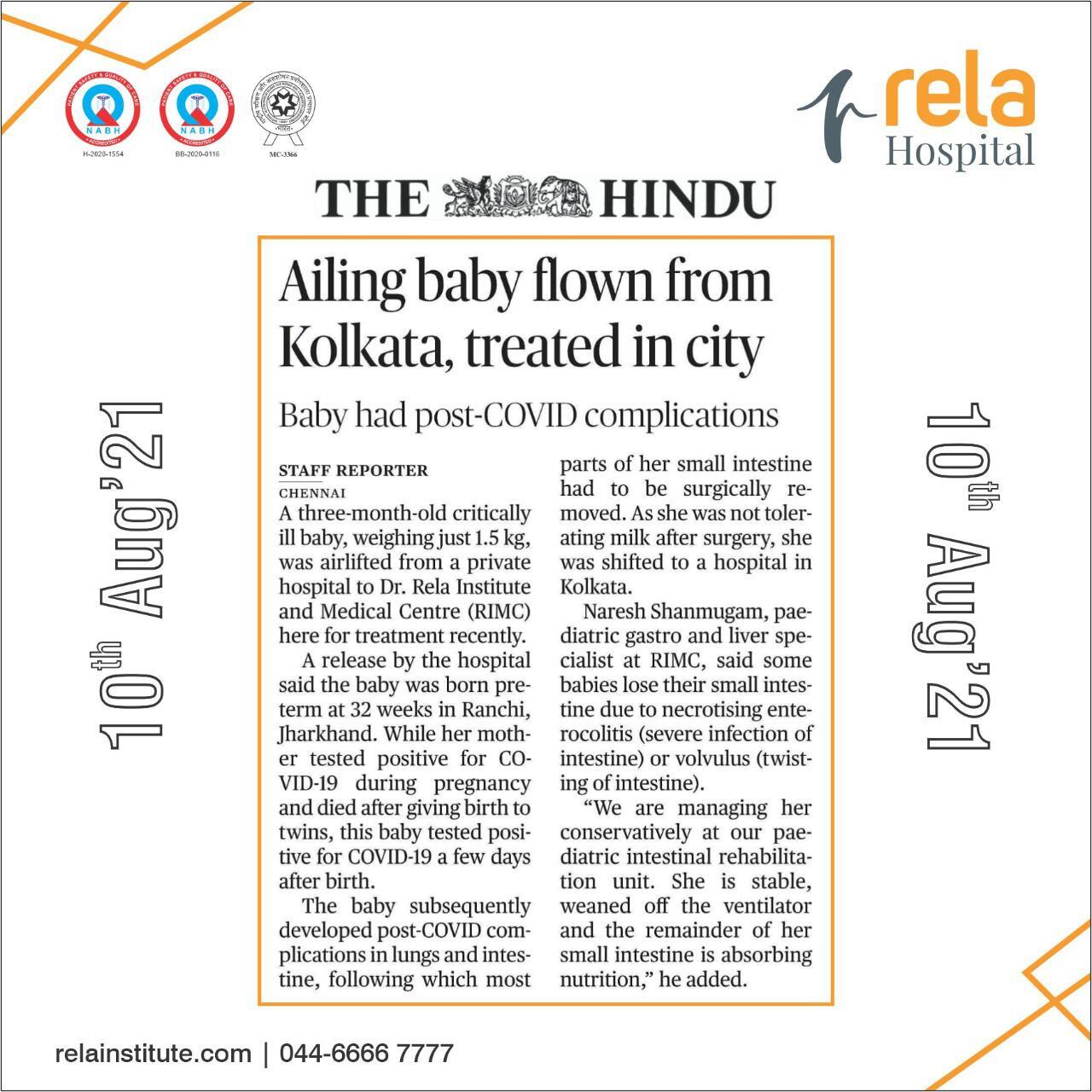 The New Indian Express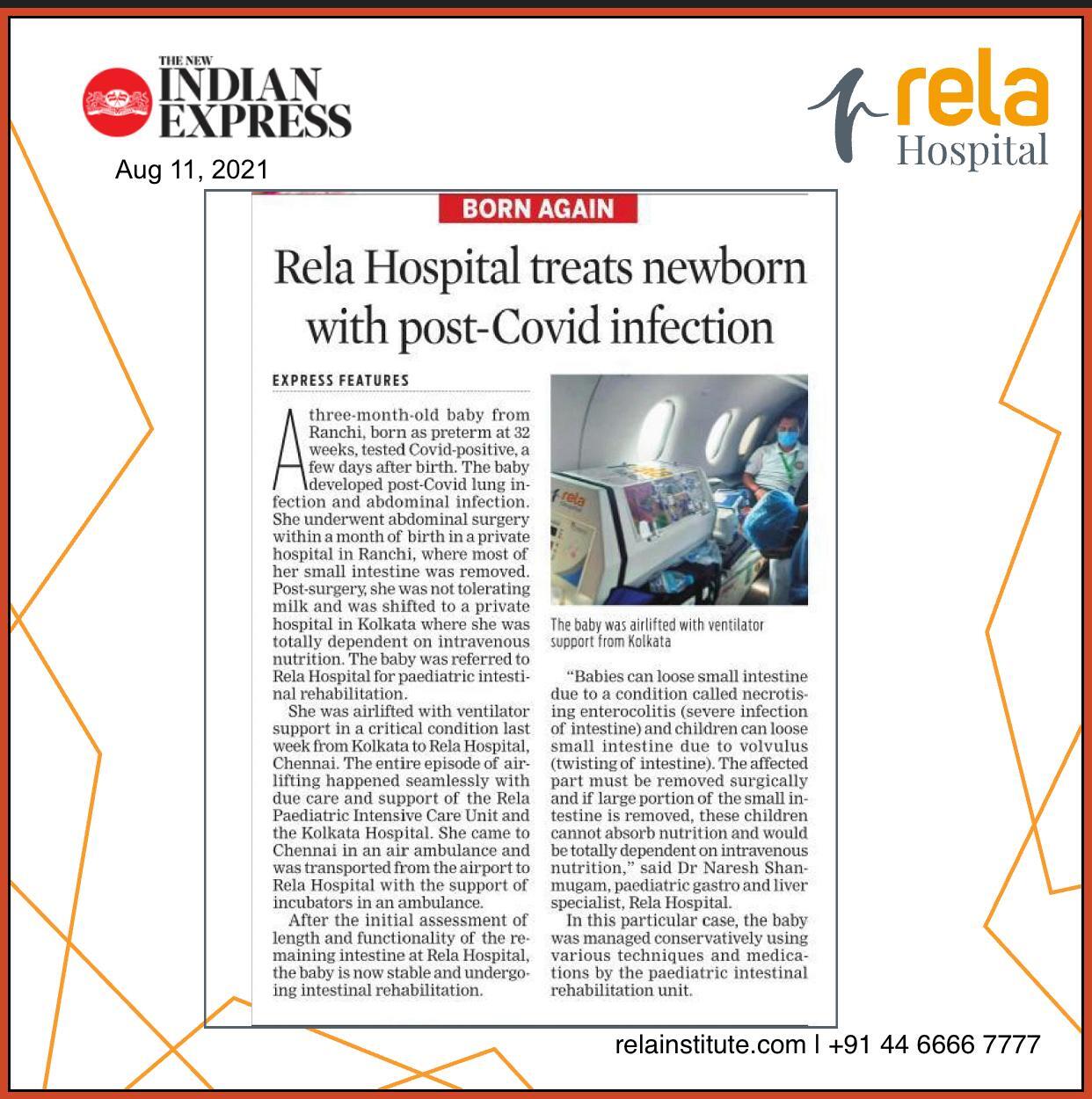 Andhrajyothy
Sakshi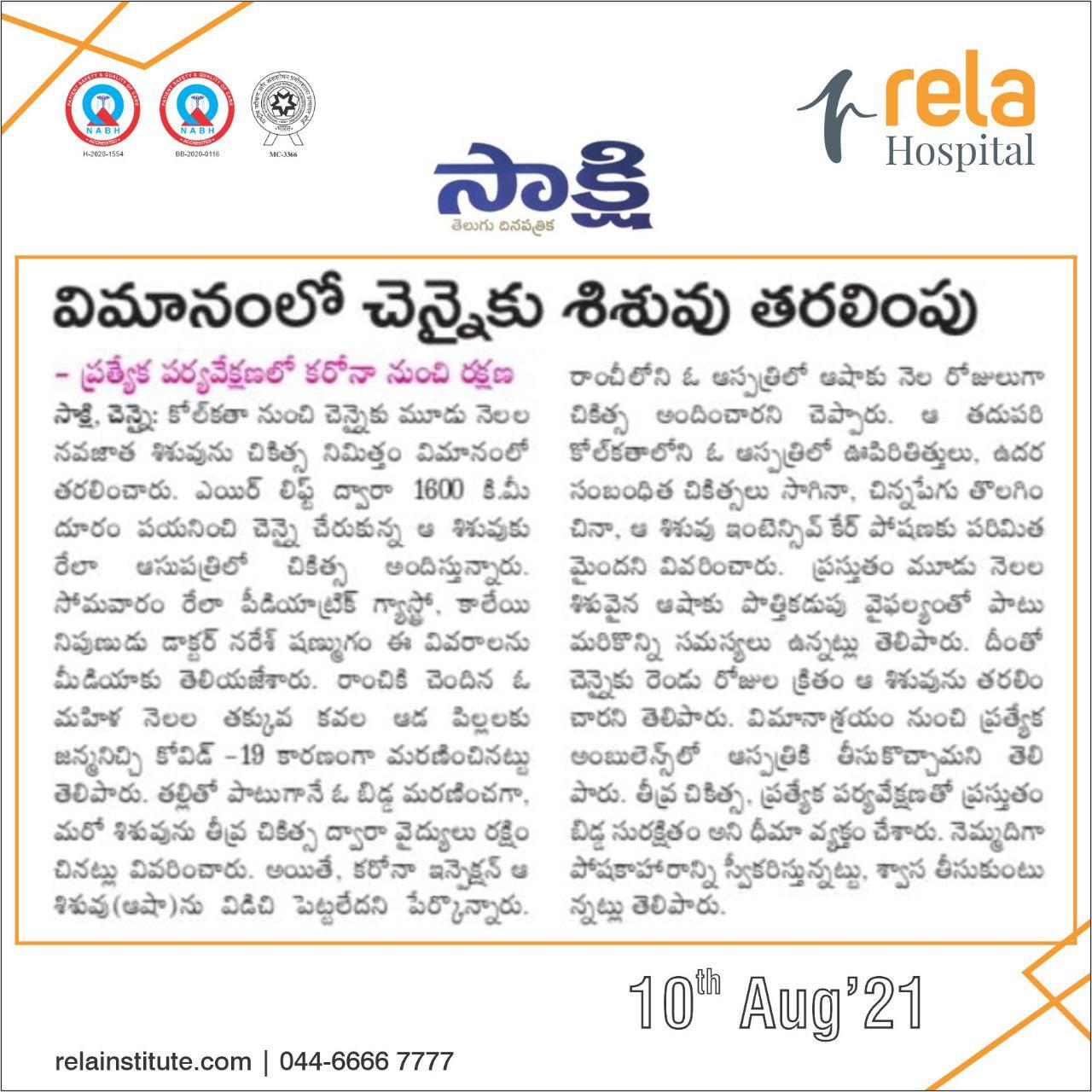 Dinamani
Makkal Kural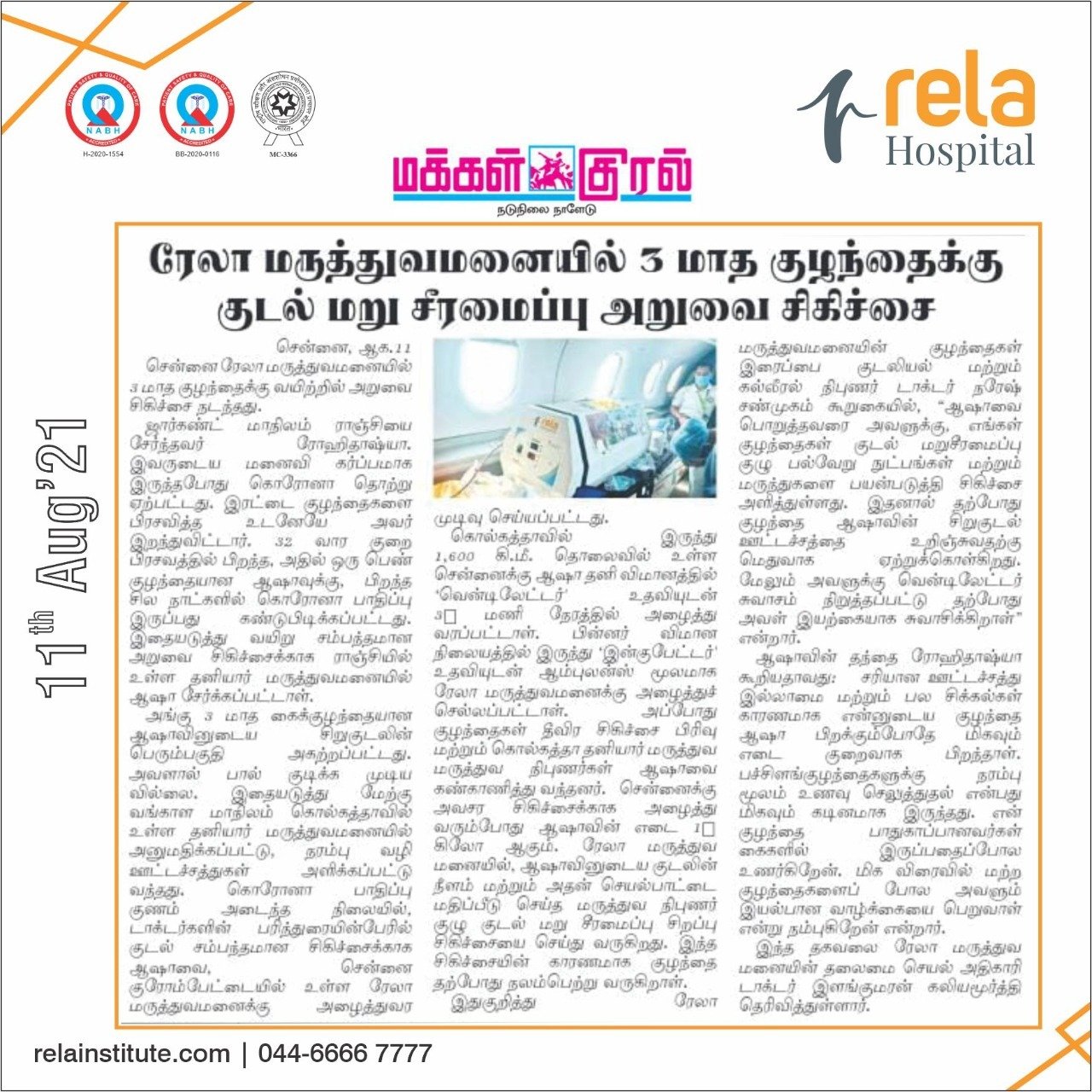 Rajasthan Pathirika
Trinity Mirror