1-yr girl gets new lease of life at Rela Hospital, undergoes successful liver transplant
Girl was suffering from a complicated liver disease
Chandigarh, August 23: One year old, Shaileyn Chelsy got a new lease of life after she underwent a successful liver transplant at Rela Hospital, Chennai recently. Shaileyn was suffering from a serious chronic liver disease. Her parents had approached many hospitals to get their beloved little daughter a proper treatment. They fixed an appointment with India's Leading Liver Care Experts – Rela Hospital's team led by Dr.Jagdeesh Menon in their Liver Clinic in Chaitanya Hospital, Chandigarh.
Dr. Jagadeesh Menon after thorough evaluation made the point that the baby was suffering from a rare liver disease called biliary atreia which had resulted in an advanced liver disease. The parents were adviced that the only curative option for the child is a liver transplant.
Shaileyn's parents Seema Priyanka and Babu Rao who is employed in the Army said that their girl started having liver problems when she was 3 months old. She was operated upon at that time however the condition re-emerged. Sherlyn also had jaundice and during that too she was hospitalized for a long time. After that his liver problem became more complicated. She was then admitted in a Hospital at Delhi for medical management.
Dr.Jagdeesh suggested Mr.Babu Rao to come to Chennai for expert opinion with World Renowned Liver Transplant Surgeon, Prof Mohammed Rela at Rela Hospital, Chennai. Prof Rela advised that donor surgery would be a scarless robotic surgery. The girl was operated upon successfully for the liver transplant at Rela Hospital, with the mother donating a small part of her part of the liver to her daughter. After transplant the girl is doing fine and discharged from hospital after 20 days of surgery, said Dr Jagadeesh Menon.
The Army doctors also helped the Mr.Babu Rao and advised them to proceed with the Liver Transplant. The cost of the treatment of INR 20 Lakhs was organized thru various organizations and NGOs. Mr.Babu Rao and his family thanked all the supporters.
Meanwhile, Dr Jagadeesh Menon, Consultant Pediatric Hepatology from Rela Hospitals runs its paediatric liver OPD clinic at Chaitanya hospital, where OPD services for paediatric liver treatment are available twice in a month.
---
Aaj Samaj
Mercury Times
Rashtriya Khabhar
Saral Tehkikaat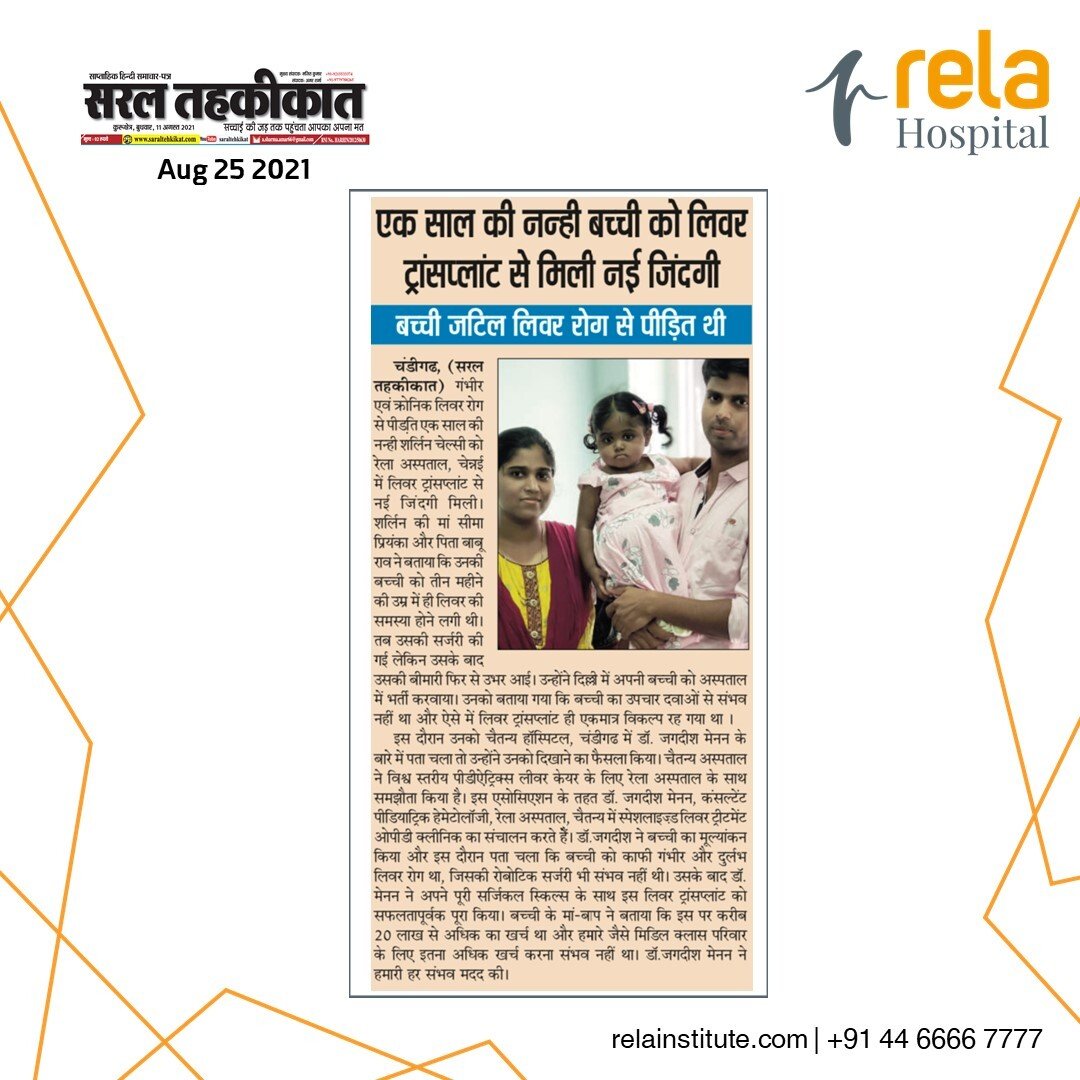 Uttam Hindu
Yugmarg